With a Corporate Language Strategy,
Training Becomes Strategic
SPECIAL OFFER - EXPIRES December 31, 2022: Business English Webinar package for just $500 (applied language skill-building with optional individual coaching). E-mail us at infopae@proactive-english.com or click here to learn more.
SCHEDULE a free 30-minute language and communication consultation for you or your organization - or call 503-231-2906 to learn more.
Several years ago, the Harvard Business Review noted that for companies employing a multitude of non-native English speakers, " … developing a comprehensive strategy for managing language can help transform that potential vulnerability into a source of competitive advantage."
ProActive English defines a Corporate Language Strategy as a strategic approach to enterprise-wide best communication practices in a multicultural, multilingual organization. The dynamic outcome of developing and implementing such a strategy is increased productivity through:
Better entry or more permanent presence in global markets using a lingua franca


More seamless integration of new employees and new customers


Stronger relationships with partners and vendors


More efficient organization-wide communication practices in everyday situations such as conference calls and meetings


Better synchronized preparation and delivery of presentations


More impactful and consistent writing in email and documents
ProActive English can help your organization develop your language strategy

We help you identify best practices around communication within your organization and help establish training policies for ESL classes, or classes in other languages.
Applying 20 years of experience in corporate language training and consulting, drawing on the resources of a team of professionals with experience in the Middle East, Asia, Latin America and the U.S., we can help you address key questions, including:
What is the impact of developing a language strategy on the bottom line?

When assessing and hiring talent, how important is language fluency in any number of languages?

What is the role of ex-pats in leading teams with other first languages?

Does learning American English or any other 'English' matter?

What is the relationship between cultural behaviors and language use – and how does that relationship impact an organization's business process?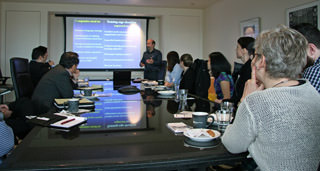 Contact us to learn more about developing a language strategy for your organization!