SPECIAL OFFER - EXPIRES MAY 1, 2021: ESL training package for just $300 (includes 3 remote training sessions). E-mail us at infopae@proactive-english.com or click here to learn more.
SCHEDULE a free 30-minute language and communication consultation for you or your organization - or call 503-231-2906 to learn more.
Read about ProActive English in Vietnam - October, 2018
From Silicon Valley to Taipei: English Communication Skills Training Stories from the Road
David Kertzner has presented at many ESL conferences and professional networking events over the past 20 years. Blending humorous and meaningful anecdotes and examples rooted in theory and time-tested practice, David shares his experiences as a corporate language trainer delivering English language and communication skills training in workplace settings.

Along the way, he shares tips for colleagues and newcomers to the field about running a business including hiring trainers, developing technology and managing programs around the world from his base in rainy Portland, Oregon.
David Kertzner's work has taken him to Prague (Czech Republic), Tbilisi (Georgia), Baku (Azerbaijan), Lyon (France), Taipei, Beijing, Shanghai, Tokyo, Seoul, Guanajuato (Mexico), Sao Paolo and Barranquilla (Colombia), among many locations. He has also gained extensive familiarity with the corporate map in Silicon Valley and The Bay Area.
Call when you need a speaker for your event!
Here are just a few of the presentation topics David Kertzner has spoken over the years:
"From University Classrooms to Company Training: A Path for EFL teachers and EFL Curriculum," Keynote Speech at VietTESOL, Hanoi, Vietnam. October, 2018.
"English as a Global Language for Global Teams: What Organizations Need to Know," PHRMA – Global SIG. Portland, Oregon.
"A Macro View of Workplace and Academic ESP training," English for Work Fair – Sponsored by U.S. Peace Corps. Barranquilla, Colombia.
"ESP in Workplace Settings: From Needs Assessment to Program Delivery," English for Specific Purposes: A TESOL International Academy. São Paulo, Brazil - Universidade Metodista de São Paulo.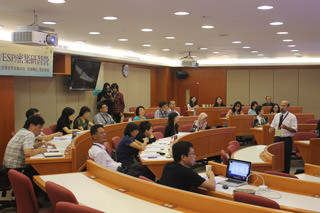 "Picture Stories on The Business English Web – A Tool for English Pronunciation Training," TESOL Professional Conference. New York, NY.
"ESL in the 21st Century: Workforce Transitions, Materials and Policy," TESOL Professional Conference. New Orleans, LA.