Onsite and Remote English Language
and Communication Training

SPECIAL OFFER - EXPIRES MAY 1, 2021: ESL training package for just $300 (includes 3 remote training sessions). E-mail us at infopae@proactive-english.com to learn more.
Schedule a free 30-minute language and communication consultation for you or your organization - or call 503-231-2906 to learn more.

Our goal is to help your organization work more productively.
We help non-native English-speaking, high-potential employees communicate more clearly, accurately, strategically, actively and authentically.
We help individuals from diverse backgrounds explain with confidence who they are, what they do and what they need in order to be successful as part of a team.
We help multicultural teams build trust by finding common language and increased understanding to solve real problems and reach creative solutions, supporting team success in a diverse and dynamic professional universe.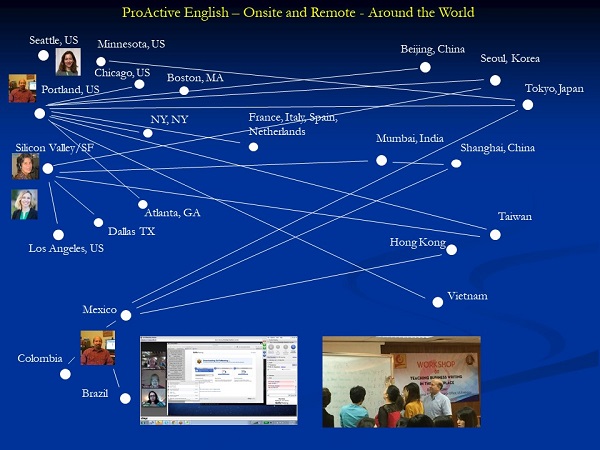 All ProActive English training includes remote training options – face-to-face, online - onsite group or one-on-one training.
Our clients consistently report significant ROI for English Language and Communication Training based on these outcomes of enterprise-wide or localized corporate language training:
Time saved in a workday because program participants can express themselves more clearly, understand their colleagues better and write more easily and precisely

Increased engagement in meetings reported by knowledge workers who learn how to jump into the discussion and interact more effectively with assertive native-English speakers

Clearer presentations with more succinct messaging by participants in ProActive English presentations training

More confident executives, senior managers, mid-level engineers and other professionals who learn to engage with clients and colleagues and share information more easily
See Menu of Training Options for 2021


Course content for business professionals can include: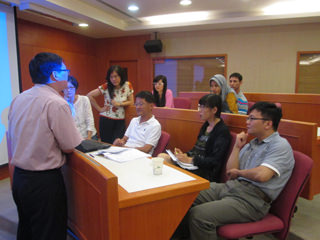 English Pronunciation and Accent Modification


Presentations Training


Functioning Effectively in Meetings or Conference Calls


Speaking Confidently and Fluently Under Pressure


Language and Culture of Business


Business English Writing – including e-mail, technical writing, marketing documents and analysis
Here is a partial list of solutions we have provided for clients.
Learn more and about training format and content.
How do we work?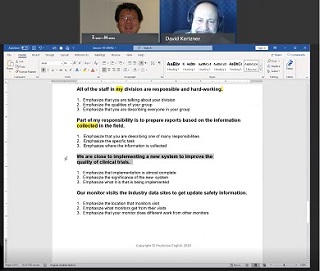 We begin with a simple and thorough organization and participant needs assessment


We interview stakeholders and record assessment interviews with participants


We tailor corporate language training content to clients' business processes and organizational communication

We schedule remote, group and one-on-one face-to-face training sessions around participants' schedules


We provide access to our e-learning support tool, The Business English Web© - 100+ hours of interactive learning activities
See Menu of Training Options for 2021.
Case Study:
An ongoing client for corporate language training employs industry experts who have struggled to be understood by their global team and struggled to produce good writing quickly. These experts were also receiving disappointing scores on well-crafted presentations before large groups.
ProActive English training addressed common pronunciation issues, strategies for presenting more effectively and individual coaching. In presentations following training, analysts' scores from audiences have increased markedly as they produced clearer speech, organized ideas more succinctly and built confidence. Course participants also reduced the time required to produce two to twenty-page documents. This also meant a reduction in the time required for managers and editors to review the writing.
For more information about our ESL language and communication training for corporations and organizations, or to schedule a free consultation, please call 503-231-2906 or e-mail us at infopae@proactive-english.com.