Remote Small Group and 1-on-1 Business English or ESL Courses, Webinars and Workshops

Working remotely: new for many
Delivering Remotely: NOT new for us


Your global or local team, including non-native English speakers, communicates remotely more often than ever – on conference calls, in text messages or by e-mail.
Ask yourself:
Do members of your team jump into the conversation easily, when

they need to

?
Do members of your team contribute when

you need them to

?
Do members of your team contribute

with confidence

?
The answer to all of these questions is probably 'no'.
The good news is that remote English Language and Communication Training and ESL programs are as impactful - or more so - than on-site training.
We have been training remotely for 12 years! ProActive English has delivered thousands of hours of remote training effectively, in face-to-face video confrerencing sessions with clients around the world at some of the most successful companies in the world.
Here are some examples:
ProActive English conducted 150 hours of remote ESL training programs for several global teams with one organization. Our American trainer in Mexico monitored simulated client calls between senior executives in Japan and a U.S-based role-playing trainer in Minnesota (US). The trainer then provided immediate feedback, reviewing the video with the participant. This realistic model of communication with clients presented an exciting and impactful learning opportunity.


In another engagement, we completed pre-arrival training remotely using Zoom with incoming ex-pats (chemists) from a Japanese chemical manufacturer serving a major semiconductor vendor with offices in Hillsboro, Oregon and HQ in Santa Clara, California. The pre-arrival remote sessions helped these ex-pats function more effectively sooner after arrival inthe U.S., saving valuable time in getting them up to speed.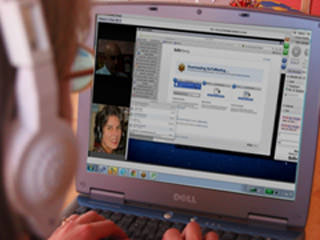 Why is remote training effective?
Video conference sessions mean that ProActive English training now looks like most business meetings for global and local teams. Our trainer sees and hears the challenges facing each participant. The platform mirrors the environment that participants use daily to communicate with clients and colleagues. Learn about ROI for ProActive English training.
Challenges for participants include:
Making small talk to help build relationships in virtual settings


Being assertive and jumping into conversations on conference calls


Expressing ideas in an organized and succinct manner without direct eye contact


Understanding what is being said and asking for clarification when necessary


Managing conference call and meeting agendas, including time


Speaking clearly when on a call or in a presentation
Conferencing platforms allow:
Three-way (or more) meetings; trainers can observe silently and provide the feedback that participants rarely receive


Document sharing with feedback on writing skills training


Presentations sharing, with feedback on slide design and delivery


Sharing of audio and video files which model speech and delivery styles


FOR INDIVIDUALS:
6-session refresher course (with Discount Code for friends of ProActive English)
ProActive English Menu of Training Options. January 2021
FOR COMPANIES:
Arrange a Free Webinar for your company only: Producing Clear Speech - Corporate Groups
Contact ProActive English for more information
ProActive English Menu of Training Options. January 2021
Learn about ROI for ProActive English Training
For more information about our ESL training for corporations and organizations, or to schedule a free consultation, please call

or e-mail infopae@proactive-english.com.