Resources for Business English
Universities and other ESL training organizations, or individuals interested in corporate ESL training can access content on The Business English Web© to:
Assess

non-native English speakers' listening, speaking and other communication skills

Support

language learning online - Business English communication and customized English Lanugage training activities for higher level learners
The Business English Web© is a language learning online resource that includes 75+ hours of self-guided Business English learning activities including ESL pronunciation, vocabulary building, speaking and listening practice primarily for corporate ESL training.
The Web tool can be tailored to the language needs of companies including recordings of industry-specific terms. Non-native speakers can record audio and trainers can provide audio and text feedback on presentations and other expressions used on a daily basis. Individuals interested in corporate ESL training and individual learners can purchase user licenses.
Contact us to sign up for the E-learning courses and practice activities offered through the Business English Web©.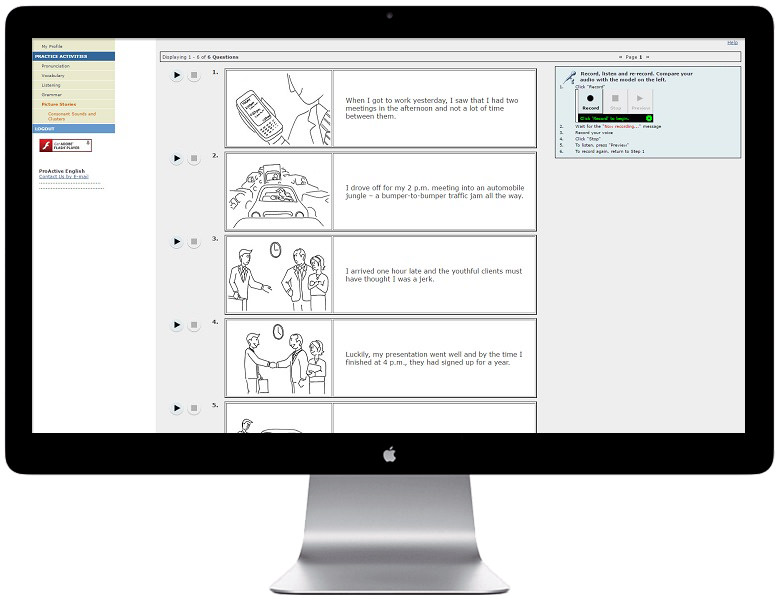 Key Features of the Business English Web
©

:
Five-skills Assessment including Speaking skills

Student Recorded Practice Exercises with Feedback

Student Audio Upload with PowerPoint Presentations

Interface for Content Development
Business English Web
©

Users:
Follow a customized sequence of learning activities that match learning priorities

Upload spoken English for review by language trainers

Improve listening skills through interactive practice with recorded dialogs

Upload PowerPoint presentations with notes and recorded audio for review by trainer
The Business English Web© is available for representatives of companies seeking to provide or supplement training for non-native English speakers.
Contact us for a demonstration today!