Measuring ROI for ESL classes at a manufacturing facility should not be complicated - and should not depend on language tests.
Your focus is on communication, performance, productivity and profitability. So is ours!
Here is how one of our clients evaluated our efforts and the efforts of participants:
A hard-working line employee at a food processing plant was preparing frozen foods. He followed recipe printouts, gathering ingredients by rote memory from warehouse locations. One day, using a high-speed computerized mixer, he added pork instead of beef into a product because he could not read labels. This error cost the company $7000 and two days to redo the shipment. Similar errors by other workers cost the company $45K the year before ProActive English was invited to deliver training.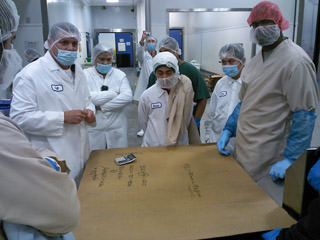 ProActive English training and delivery means we:
work with managers to incorporate company language and procedures into a 24-hour training curriculum


improve critical basic reading skills of low level readers

provide American accent training

improve basic writing to help participants complete required forms to explain workline stoppages

help participants learn how to communicate about the production process



With this client, confidence among participants grew immediately after the training began. Similar errors did not recur and ProActive English was asked to train additional employees over several cycles.